Profile building for college admissions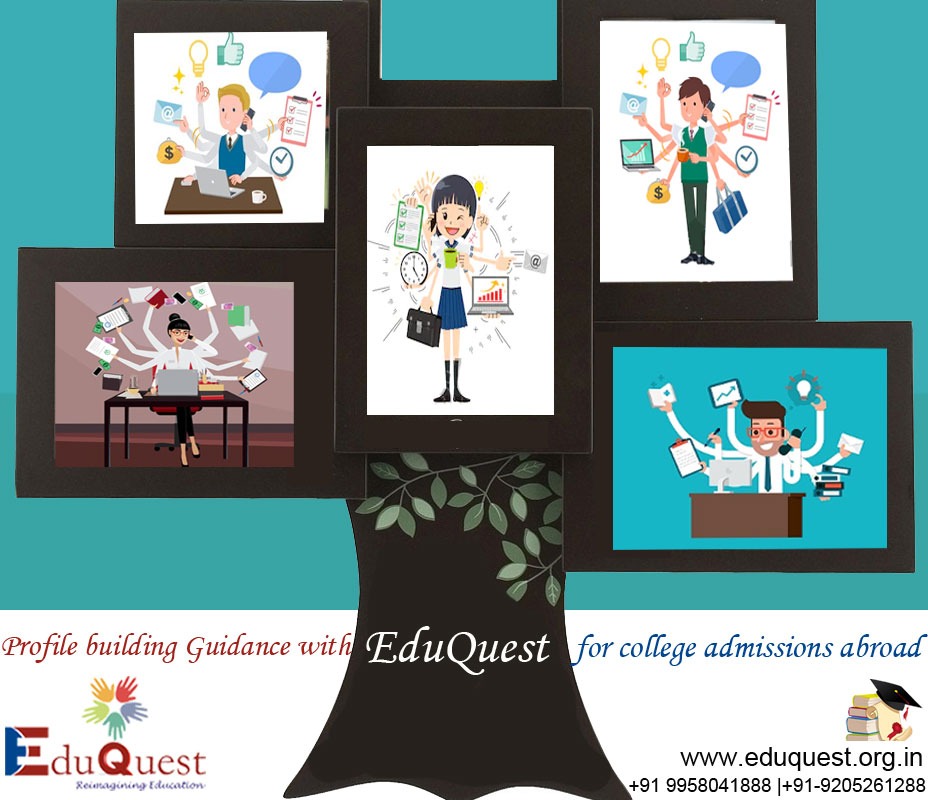 Profile Building for College Admissions for 8th/9th Grader
Best profile building for 8-9 Graders: For any structure to be complete and stand the test of time it needs to have a strong foundation. Every foundation building exercise starts at the beginning, thus for a solid college application its best to start profile building when one is in their early years of high school, i.e. 8th-9th grade.
 Building one's profile is a dynamic and active exercise. A profile is a filter through which admission teams view an applicant. For a strong and successful application, demonstration of effective, adaptive and consistent effort towards your chosen specialty is pivotal. Here in this article of EduQuest which primarily coaching students for SAT coaching we have discussed complete details about the Best profile building for 8-9 Graders.
MAXIMIZE YOUR CHANCES OF SCORING SAT 1450+
LEARN LIMITLESS WITH EduQuest
There are many reasons as to why profile building is important for 8th-9th graders, some of which include:
Profile Building makes planning High School Courses Easier
Choosing the right subjects in high school is confusing, to say the least. Profile Building is early stages makes the applicant have a clearer vision as to what path one wants to lead and makes the choice a relatively easier task
Increased efficiency to plan out standardized tests (SAT/ACT)
Standardized tests play a pivotal role when it comes to university admission processes, thus they can be equally overwhelming. By pre-building your profile, you will have time to manage and plan out how to give your tests with higher efficiency.
Read Also: WHY EDUQUEST HAS THE BEST SAT COACHING CLASSES IN DELHI?
You can start building a strong profile within extracurricular activities
Extracurricular activities are very important for a holistic application this time is the best to explore one's interest by participating in activities of interest, if done early they will help you gain a better understanding of what you want to pursue and help you gain positions of higher authority as you progress in a certain extracurricular activity since the start.
Opportunity to apply for numerous resources of financial aid
There is a lot of scholarship or financial aid opportunity available for applicants who are still in their early years of high school. Best profile building for 8-9 Graders will open new opportunities for applicants looking for financial aid and these opportunities are relatively easy to get as there is less competition due to limited awareness.
 Best profile building for 8-9 Graders starts with understanding what an application is. An application highlights all the important part of your profile. A good application is a combination of a strong and highly targeted show of effort and excellence in three main forms — expertise in academics, engagement in community services leadership in extracurricular activities.
Read Also: WHY AND HOW THE SAT IS A BETTER BET THAN ACT
 A profile is usually showcased by the following elements in an application that is accessible to an admissions officer:
CGPA or test percentages of high-school or college
Test scores of standardized tests ( SAT, ACT)
Personal Essays (Statements, Application Essays, Personal Insight Questions, Additional Personal Information, etc)
A Letter of Recommendation
A CV or Resume or in some cases a Portfolio
A Writing Sample
An Activity List for undergraduate applications
In most cases when you are an average student who isn't a prodigy or a star athlete their applications need to be interesting enough to be considered in most colleges. Here are some points to consider as you make your application an eye-catcher:
Your Scores Matter
As opposed to connotations that most college admissions are driven by personal biases or discretion of the admission officers, studies conducted have shown that the more objective elements like CGPA's, test scores(SAT/ACT), gender, ethnicity, and such play a significant role in determining the applicant's success.
Specialize in your interests 
The more subject-specific your interests are the more invested you come across, thus making your application stand out even more. Thus it's always a solid bet to specialize in your interests as much as you can.
For higher education like masters degrees, it is highly important for an applicant to know how their industry runs, its basic function to hold a firm grasp on mature subjects pertaining the field of study taught in the master's degree
A diverse but cohesive application
For applications spanning throughout different degrees in different countries, Years of your life are summarised and compressed into sentences. An admissions officer has to review hundreds of applications per day, your aim should be to present an unconventional angle as a hook, convince them that you are not part of the crowd by pursuing a series of activities that are diverse in the form like publications, online writing, social services, academic endeavours, debating, internships, and more, but more or less cohesive in content that is in a particular field of interest. At the end of the day, college admissions and the evolving art of profile-building is established in the fact that focus is valued. This is something you must prioritize the most.
 It is important that maintain open communication between you and your parents when you starting preparing for your High School or College. Your parents will not only support you, but they also help you understand your interests and are there to advise you on the same.
 We hope that this article has helped you in understanding the importance of and Best profile building for 8-9 Graders along with SAT/ACT coaching perceptive.
MAXIMIZE YOUR CHANCES OF SCORING SAT 1450+
Sign Up to Score
High
Better
Faster