MIT vs Harvard – which school best for you! Read to know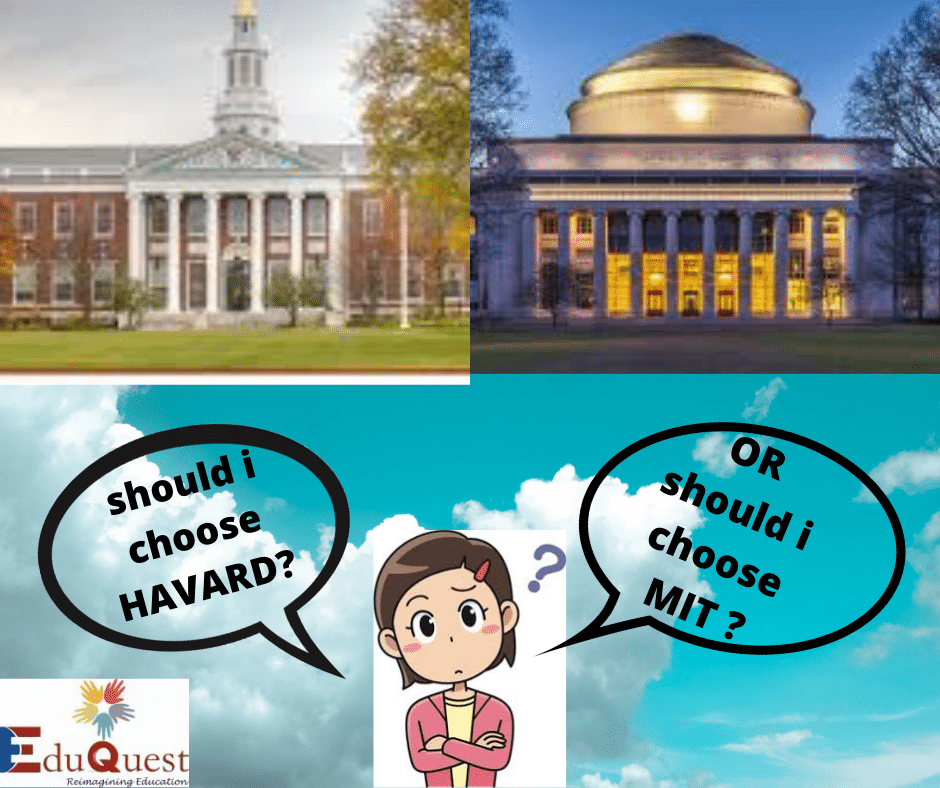 MIT vs Harvard - which school best for you! Read to know
MIT vs Harvard
Selecting the right school is a big part of the preparation for higher studies. With two great and highest-ranking colleges in Cambridge, namely Massachusetts Institute of Technology and Harvard University, it often gets confusing for students to choose between one of them. Both the institutes are equally renowned, consistently ranked in the top 5 in various college ranking lists, and offer unmatched academic and extracurricular experiences.
Well, we are here to help you make that decision. In this blog post, we have covered all the quantitative and qualitative factors about both the institutes. After going through this post of EduQuest, you will hopefully be better equipped with all the information needed to choose between MIT and Harvard.
MAXIMIZE YOUR CHANCES OF SCORING SAT 1450+
LEARN LIMITLESS WITH EduQuest
MIT vs Harvard Admissions
The first thing to consider while preparing and sending out your college applications is the acceptance rate of both the schools. According to the universities' official statistics 2020, the acceptance rate of Harvard is lesser than MIT's. While the acceptance rate of Harvard is 6%, it is 6.7% for MIT. This alone does not mean that Harvard is a better school, considering the various kinds of majors and fields of specialization offered by both the schools. But the chances are higher for you to get into MIT than Harvard based on the acceptance rates of both the institutes.
The SAT is a standard test for college admissions in the United States. And you must have a great academic record with exceptional SAT scores to get into either of these schools. Both the schools require high academic performances with no less than a 4.18 high school GPA. While the average admission SAT score for Harvard is 1500, for MIT it is 1490, according to the universities' statistics 2020. The difference in the GPA and SAT scores is nominal and it is equally difficult to get into either of these schools.
Although both the institutes require exceptionally high SAT scores, the section-wise average score breakdown might help you with your strategy for college applications and SAT preparations. Following is the section-wise breakdown for average SAT scores requirement in both the schools:
1.      Average SAT score in critical reading
2.      Average SAT score in Math
3.      Average SAT score in Writing
 As the above tables suggest, the Average Sat score required in Math is more at MIT than the other two sections, which are higher for Harvard.
MIT vs Harvard Students and Faculty
The rate of international diversity shows how popular the school is abroad. The international diversity with students from all over the world not only provides exposure to various cultures and ethnicities but also prepares the students to make important connections and mingle with people of all kinds. While Harvard has 20% enrolment of international students, MIT has 28.5% of students from across the globe according to the 2020 universities' statistics.
The student to staff ratio
The student to staff ratio indicates how many students are there per professor. If the ratio is lower that would mean the students get more attention from the professors.  The student to faculty ratio at Harvard is 6:1, while at MIT it is 3:1. Thus, we can conclude that the student to faculty ratio is better at MIT because there will be a professor for every three students at MIT.
Financial Aid
Both the institutes at first glance look quite expensive, with Harvard having yearly tuition fees of 52,962$ and MIT 53,790$. But most of the students do not have to pay such a high cost of attendance. While none of these institutes offer merit scholarships, they do consider the demonstrated needs. The selection to both the schools is need-blind, that is they do not consider the financial status in their selection procedure.
Harvard is a no-loan institution and families with an income of less than 65,000$ a year, do not need to pay tuition fees. At Harvard families with yearly income between 65,000$ and 150,000$ have the provision of paying only 0-10% of their income as tuition fees.
MIT is not a loan-free institute but offers excellent financial aid. The students ate MIT with family income less than 90,000$ are exempted from paying tuition fees. In conclusion, Harvard is more convenient for people seeking financial aid and relief in the tuition fees.
Schools
The important thing to consider while choosing between both these institutions is the field of study you are interested in. Although both the schools offer more than 50 majors, MIT is more suitable for technology, engineering, science, and maths, and Harvard for liberal arts, business studies, and humanities.
For engineering, MIT is ranked #1 while Harvard is ranked #22. Thus, it is advisable to choose between the schools based on the individual majors and fields of study you are interested in.
We have created a list of schools at both the institutions for you to have a clearer idea about the niche of studies offered:
MIT
School of Architecture and Planning
School of Engineering
School of Humanities, Arts, and Social Sciences
Sloan School of Management
School of Science
MIT Schwarzman College of Computing
Harvard
Harvard Business School
Harvard College
Harvard Divinity School
Harvard Division of Continuing Education
Harvard Graduate School of Arts & Sciences
Harvard Graduate School of Design
Harvard Graduate School of Education
Harvard John A. Paulson School of Engineering and Applied Sciences
Harvard Kennedy School
Harvard Law School
Harvard Medical School
Harvard School of Dental Medicine
Harvard T.H. Chan School of Public Health
Radcliffe Institute for Advanced Study
MIT vs Harvard Campus Life
Sports and extracurricular activities are equally important while considering any college for admissions.  Both MIT and Harvard have exceptional sports teams. The sports team of Harvard is called Crimsons and the sports team of MIT is called MIT Engineers. The Crimsons compete at the Ivy League and NCAA Division I, while the MIT Engineers compete at the NCAA Division III.
Both the schools have varsity teams in various sports like baseball, basketball, fencing, football, field hockey, swimming, tennis, and volleyball to name a few.
Thus, the options at both the schools are pretty great if you are into extracurricular. But if you are especially looking for a school that has great athletics experience, then Harvard might be a better choice because the Crimsons play at Ivy League and NCAA Division I.
Housing is a major concern for students because students come to Cambridge from all across the globe.  Around 97% of undergrad students live on the campus of Harvard University. The first-year students are placed in suites near Harvard yard and have their meals in Annenberg Hall.  The second-year students reside in the 12 community houses cum dormitories. Around 350-500 students reside in each house which becomes a close-knit community and a home away from home.
In MIT 73% of the undergraduate students live on the campus.  While others reside in independent living groups, fraternities, sororities. MIT has 10 residential halls in operation and recognizes 25 fraternities, 7 sororities, and 5 independent residential groups.
About
Harvard University is located in Cambridge, Massachusetts. The University is a part of the Ivy League and is a private research-based institute. Harvard was established in 1636 and thus one of the oldest learning institutions in the United States.  The main campus of Harvard is 5km downtown from Boston, cantered on the Harvard Yard, with other neighbouring campuses in Allston and Longwood.
MIT is also a private research university. Although it is not a part of the Ivy League, it is no less renowned than an Ivy League school. MIT has an urban campus in Cambridge, Massachusetts, extending for more than 1.5 km along the Charles River.
The location and surroundings of both the schools are beautiful not to mention, you can take various courses at both the places because of their convenient nearby locations.
The campus size of Harvard University is much bigger than MIT's. While Harvard has a campus size of 20.54 square km, the campus of MIT is of the size 0.68 square km.
Even the number of students is more at Harvard as compared to MIT. While Harvard has 6700 undergraduate students, MIT has only 4503 undergraduate students. The number of graduate students at Harvard is 14500, and at MIT it is 6686.
Harvard has more number of schools too. The total number of schools at Harvard is 13, while at MIT it is 6. MIT does not have law or medical schools like Harvard.
| | | |
| --- | --- | --- |
|   | MIT | Harvard |
| Campus size | 0.68 square km | 20.54 square km |
| No. of undergraduate students | 4503 | 6700 |
| No. of graduate students | 6686 | 14500 |
| Schools | 6 | 13 |
The above numbers are the university's official statistics, 2020
Rankings
Both schools have exceptional rankings when it comes to both national and international comparisons. The competition between both Harvard and MIT can not be reduced to the rankings of one year because it keeps on fluctuating every year. We have prepared the ranking list based on some recent publications for you to have a clearer idea of the cut-throat competition.
| | | | | |
| --- | --- | --- | --- | --- |
|   | U.S News | Times Higher Education | Academic Ranking of World Universities (ARWU) | Forbes |
| MIT | 1 | 5 | 4 | 10 |
| Harvard | 3 | 4 | 1 | 8 |
The above rankings are based on publications in the year 2020. The rankings fluctuate every year and with different publications. At some places, Harvard is ranked higher, while at others MIT is ranked higher.
Overview
MIT VS Harvard
| | | |
| --- | --- | --- |
|   | MIT | Harvard |
| Location | Cambridge, MA | Cambridge, MA |
| Campus Type | Urban | Urban |
| Size | 0.8 square km | 20.84 square km |
| Acceptance Rate | 6.7% | 6% |
| Average SAT score | 1490 | 1500 |
| International Diversity | 28.5% | 20% |
| The student to Staff Ratio | 3:1 | 6:1 |
| Financial Aid | Families with income below 90,000$ | Families with income below 65,000$ |
| No. of Majors | 56 | 50 |
| Specialization | Engineering, science, math | Liberal arts, business, humanities |
| Undergraduate enrolment | 4503 | 6700 |
| US News Ranking | 1 | 3 |
| Tuition Fees | 53,790$ per year | 52,962$ per year |
| Ivy League | NO | YES |
| Sports | NCAA III | NCAA I |
Conclusion: MIT OR Harvard, which is better?
Objectively speaking, it is nearly impossible to decide which school is better. It purely depends on you. Both institutions are neighbours and offer a wide range of programs at undergraduate, graduate, and research levels.
The ranking also is more or less the same. Although Harvard is part of the Ivy League, it barely makes any difference in the quality of college experience or academics.
It is advisable to make the decision based on financial aid you are receiving, the cost of attendance, the cost of living, and the field of study.
If you are looking for programs in the field of engineering, science, and maths then MIT is a better option, while Harvard is a good choice for liberal arts, humanities, and business, Social Sciences, General; Biology/Biological Sciences, General; Mathematics, General; Computer Science; and History, General
Similarly, if you are drawn towards athletics then go for Harvard as their teams play for Ivy League and NCAA Division I while the teams of MIT play for NCAA Division III.
MAXIMIZE YOUR CHANCES OF SCORING SAT 1450+
Sign Up to Score
High
Better
Faster