PREPARE SAT IN ONE MONTH|PREPARE SAT IN 30 DAYS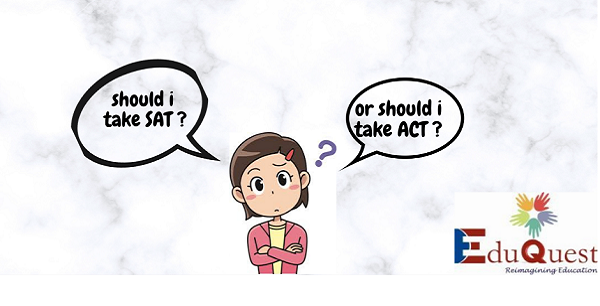 PREPARE SAT IN ONE MONTH|PREPARE SAT IN 30 DAYS
Practice, Practice, Practice ………………..makes success in SAT/ACT
The Scholastic Aptitude Test, or better known as SAT, is an important competitive examination for students, who wish to pursue an education in a foreign country. The questions in such an exam require skills related to technique and problem-solving methods. In fact, such an examination actually helps a student to study and learn something that is beyond bookish knowledge. For most colleges or universities in the United States, the SAT examination is seen as a standardized test that determines a student's acceptance.
In an SAT examination, one must prepare for both parts of the paper – one being the Evidence-Based Reading and Writing, and the other being Math. The marking system is divided in such a way as well. The pattern of preparing for the SAT exam is indeed very different from that of other examinations. SAT preparation can be aced within a month if one wishes to truly pursue it and do well. An average student can also obtain a very good rank in the SAT exam. As a matter of a fact, there are ways to work towards a very good SAT score. However, to ace the SAT examination in a month – one must be truly prepared to devote time and determination.
MAXIMIZE YOUR CHANCES OF SCORING SAT 1450+
LEARN LIMITLESS WITH EduQuest
The following can be done in order to get absolutely prepared within a month for SAT:
· Create a schedule
In order to begin SAT preparation, a student must prepare a daily schedule and dedicate time to working on the SAT examination. Since SAT papers have questions divided into different sections – one could prepare each section at one part of the time. It is basically time management. However, a student should first look through the topics, and choose which ones they should work upon first. It is advisable for a student to dedicate a minimum of 5-6 hours a day to prepare for better results.
· Start working on the time limit of each paper.
Each Evident-based reading and writing, as well as Maths papers' duration, are 180 minutes (if one attempts an essay question, then total timing is 230 minutes) long. A student must time themselves well. In order to complete the entire paper, a student has to divide their time into each section of questions. Some students do not manage to complete their papers. It is wise to keep practicing on mock papers, in order to gain the speed required that help to complete the paper. It is, of course, wiser to attempt the one-mark questions first; however, it is depending on the student on how they wish to set the timeline for each section of questions.
· Preparation Tips:
In the Vocabulary part, which is very vast so try to spend 10 minutes daily and try random words by underlining them in your practice paragraphs rather than referring to a dictionary or any book alphabetically, as you won't be able to complete even half of it giving you more frustration.
Vocab tip is that the student can try to understand the meaning of the whole sentence and find out the meaning of words that they don't know as it will make their vocabulary part strong.
In the grammar portion, the student just requires to do revision and practice on the regular basis. Never chase grammar rules because it will force you to cram and blind out your creativity. Practice will make you better not chasing grammar.
In the Reading Part, known to be a critical reading portion, the students need to learn to identify the difference between the main idea and supporting idea, implied and actual meaning. You must learn and understand how to skim through complicated passages with regular practice. Remember, it is more of logical reasoning in Reading so Practice and common sense will rule here.
Now let's discuss the Math Portion. The SAT Math Test consists of four parts that are Heart of Algebra, Passport to Advanced Math, Problem Solving and Data Analysis, and Additional Topics in Math. Students need to clear the basic concept, practice regularly via study material, mock tests, and etc. They need to learn to identify and solve the problems accurately and quickly by using effective solution approaches. Start with differentiating between already read topics and your weak areas by attempting with a couple of mocks which will help in identifying weak areas. Then start focusing on new areas of learning keeping a balanced approach of practicing your well-known areas too.
· Understand what is your lowest score
A student should give a few SAT mock exams, in order to understand what their lowest score is in the said exam. Once an individual realizes where they are lagging behind, they can work on those weak points. The entire process works as a system, which wishes to function properly. For example, if one person actually starts preparing, it is not only their weaker points that get help – their overall performance is helped as well.
· Find out the highest point score on SAT
SAT scores are basically credit points obtained by correct answers. So, the main focus is to find out the highest point score secured, and based on that, one can aspire to work hard and seek guidance to achieve the same or better point score. 130-200-point scores are highly appreciated and given preference by different colleges as well as universities. It can be obtained within a month if one dedicates at least 75-80 hours of the day for good preparation.
· Have a target score to achieve
An aspiring student should have a target to achieve. A target means having an aspired score, that can be obtained from the examination. It does not necessarily mean full credit in each paper. It means, to secure maximum credit from each paper. Also, a target should always be kept by oneself. It is always good to have certain expectations from one's own self. It simply inspires one to work towards the goal, and maybe even outdo themselves. Someone else setting a target for a student – creates a kind of peer pressure. Almost every student does have a certain mindset ready to achieve their own set target.
· Research a little
This may sound hectic, but if it is done right – a student might actually walk away with very good knowledge. There are certain topics, such as lexical resource and scatter plots, that a student could research upon to just gain a little more knowledge and understanding. It is just for extra understanding so that the student can prepare better. Once a topic is familiarised in simpler words, it becomes easier to work towards a good SAT score.
· Gather enough material for SAT preparation
SAT preparation does require material for better guidance. There are different kinds of materials that an aspiring student can use for securing very good scores in the SAT examination. Such materials are books, booklets of solved questions, online lectures, etc. The basic reason for gathering materials for SAT preparation is so that one can use all the help available so that they can score very well.
· Attend SAT Coaching
Some SAT coaching centers are actually very helpful such as EduQuest. They provide most of the possible questions that may appear in the exam. SAT coaching has proven fruitful in the past. In such coaching, students get to interact and learn together. The teacher in such coaching should have prior knowledge about SAT preparation as well as the examination. The student availing of such a facility can freely place their queries and clear their doubts.
SAT examinations are of no child's play. Skill, determination, willingness to learn, the proper understanding of each and every SAT material, etc. – are all very crucial for a student, who wishes to have an excellent rank in the SAT examination. SAT exams is not difficult if good guidance is provided. It does not matter whether a student has been excellent or has been an average student during their school years. Every student, who wishes to score well in the SAT examination, has to go through the same method or pattern of SAT preparation.
MAXIMIZE YOUR CHANCES OF SCORING SAT 1450+
Sign Up to Score
High
Better
Faster